"Who are God's Servants but his minstrels, who inspire the hearts of people and stir them to spiritual joy!" -St. Francis of Assisi
Check Out Our Rave Reviews!
I loved your performance! What a lucky group of people to experience this event!
IF YOU HAVEN'T YET SEEN THIS AMAZING PERFORMANCE, YOU SHOULD MAKE EVERY EFFORT TO DO SO! Brother Al and his small but wonderful team of production assistants have created a heartwarming and eye-opening rendition of the life of Blessed Solanus Casey.
I was lucky enough to attend. I found this musical AWESOME...entertaining, informative , fun and full of God's love...
Dear Brother Al, Your performance yesterday was wonderful. Reminded us of the Ernie Harwell play by Mitch Albom. I was very impressed with you and your song writing! Thanks for inviting us and keep smiling.  Peace!
 It was a wonderful way to step into the life of Blessed Solanus Casey. I highly recommend attending one of the presentations if at all possible. By the way, Br. Al is really a very talented musician so don't let his violin playing fool you !
Thanks brother Al...I too would recommend this delightful story about FR.SOLANAS...! Not only was it informative and entertaining it was also a loving tribute and fun ! The other Friars were very pleasant and fun too! My husband and I loved every minute!
Brother Al loves being a Franciscan Friar. He also loves writing songs and sharing his music, giving concerts in various venues no matter the size, and almost anywhere!
In his younger years and until now he has been committed to serving the poor, homeless, and marginalized. He co-founded the first HIV/AIDS housing ministry in Chicago back in the 1980's. He helped establish two Canticle Cafes (think Starbucks for the homeless) in Cincinnati and Detroit. He then took his Franciscan outreach to the streets of Detroit serving the homeless out of a bicycle cart, attracting international attention!
Committed to ecumenical and interfaith relations he co-founded the Song and Spirit Institute for Peace in 2011; a charity dedicated to promoting peaceable and reconciling relations among people of different faiths through music, the arts and community service.
Drawing from his rich Franciscan heritage, he spends most of his time these days emulating the example of St. Francis as a minstrel of God!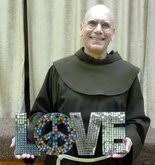 Interfaith Leadership Council Community Service Award - 2015
Citizens for Peace Compassionate Citizen Award - 2013
Detroit 20/20 Unify Award Finalist - 2014
Detroit 20/20 Unify Award Finalist - 2013
World Sabbath of Religious Reconciliation Peace Maker Award - 2012
Check out some of Brother Al's newest songs!
A song in response to the Coronavirus crisis.